Welcome to the Three Year Olds Classroom
The Red Room
In the three year old class one head teacher and two assistants work with twelve children.  Our goal is to provide a loving and secure environment where we encourage the development of each child's positive self-image and social skills.  This class is known as the Red Room.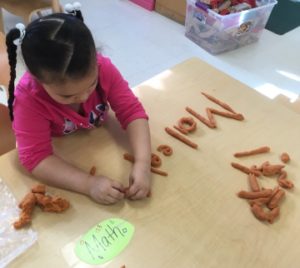 Through hands-on activities we build on the foundation laid by the two year old class the previous year by:
Further developing the learning of colors and shapes

Increasing literacy through finger plays, rhymes, books and songs
Developing fine and gross motor skills through a variety of activities
Providing ample opportunity for imaginative play
Improving social skills such as cooperation, taking turns and being a friend
We create opportunities for each child to feel success by emphasizing their strengths and abilities.